Our bright welcoming nursery is spread between two units at the same location. We have a dedicated baby unit consisting of three rooms, taking six babies in each room creating a homely environment. Our top unit provides a stimulating, exciting environment for 2 year olds up to and including pre-school.
We are very proud of our facilities and have a secure garden as well as a sensory area for all of the children to enjoy.
Babies aged 3 months – 24 months
Babies aged 3 months – 24 months will be encouraged to further their development through the Early Years Foundation Stage. We cater for the individual needs of our babies and a daily report sheet is completed for each baby.
During their time in the baby unit, children's progress is recorded through observations and evidence is collected in their individual 'Learning Journeys'.
Click on the images to explore our baby unit.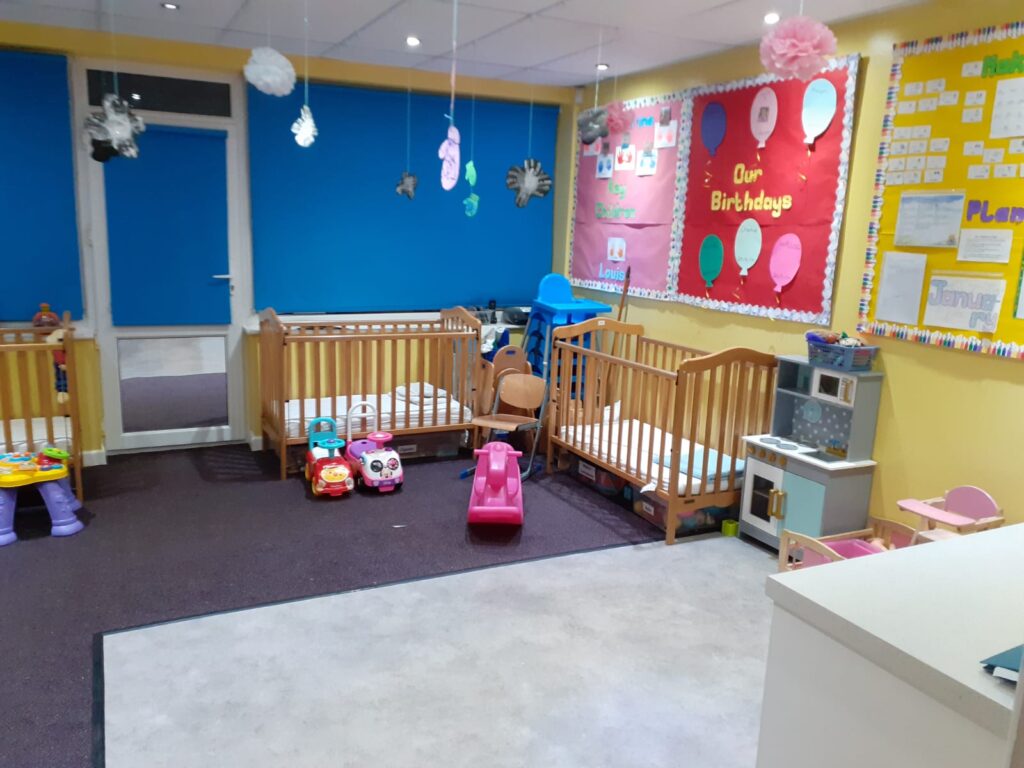 Please click and drag on the image for a 360° view of our Daisies room.
Please click and drag on the image for a 360° view of our Bluebells room.
Our open-plan, brightly designed rooms have the benefit of a carpet area, and hard floors.  Our hard floor area provides space for many stimulating, creative and tabletop activities.  Children have access to water play, paint, collage and sand play. 
Refreshments are also served in this area.  Our carpet area is where our home corner is situated; also it's where we look at our wide variety of books.  Construction play is also encouraged in this area.  Snooze mats are available for rest periods if required.
Children within the nursery continue to develop in an exciting and challenging environment working within the Early Years Foundation Stage which encompassesExpressive Arts and Design, Physical Development, Communication andLanguage, Literacy, Mathematics, Understanding the World and Personal, Social and Emotional Development. These areas of learning are approached through play and take into account children's own interests and individual needs.
Our Pre-School is designed to develop children's confidence in learning, self esteem and social skills, thereby equipping them for their continued education as they make their transition to school. Transition is managed by key members of nursery staff liaising with all schools that our children will attend.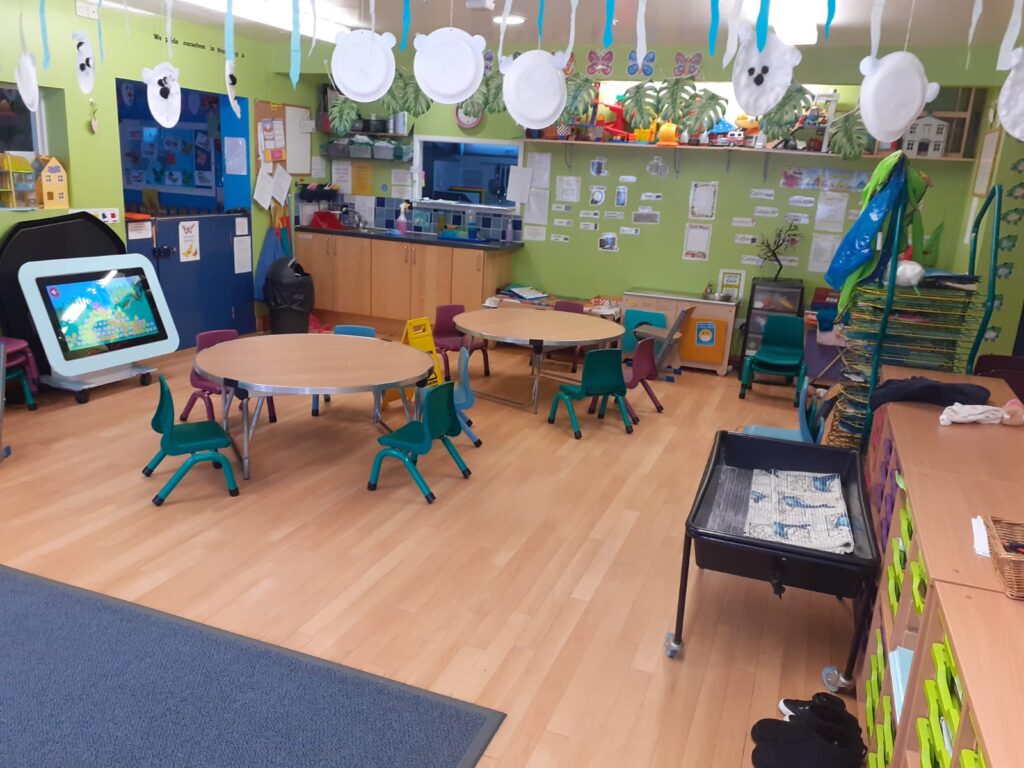 View our Butterflies Room
Please click and drag on the image for a 360° view of our Bluebells room.
All our children have access to our safe and secure garden area. We have a protective play area for the babies to enjoy and a large garden space for all the children to play in.
Our garden contains a wooden den we call 'the fort,' which our children love and is a place their imagination can run wild. We encourage all the children to be active and to have fun in the outdoors and regularly go into the garden to play games and do activities. As a nursery we encourage our children to be involved in the growing of herbs in our garden, which we use in our cooking. In the summer we also grew tomatoes, carrots and sunflowers.
Please click and drag on the images below for a 360° view of our Garden.
We have created a sensory room for all of the children to enjoy and explore. With sensory lighting, soft play, sensory equipment and textured walls, this room encourages children to explore differing sensations.