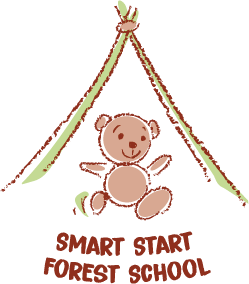 Outdoor Nursery Forest School Sessions
At Smart Start Day Nursery we run forest school sessions as part of our Sutton Park outdoor preschool experience. These sessions are included within nursery fees.
Our Forest School sessions enable children to explore the outdoors and create new experiences from which to learn. With staff guidance, they can enjoy the outdoors and our local natural environment.
Our fully qualified team have attended Forest School training and lead these sessions with small groups of preschool children. With our location being in Sutton Coldfield, we use Sutton Park as it is full of open heathland, woodlands, lakes, wetlands and marshes. With a variety of plants and wildlife, it helps our children to use their imagination, learning as they go.
Smart Start Day Nursery Forest School sessions help each child build self-esteem, confidence, independence and self-control. During Forest School sessions, each child will carry a Forest School rucksack and be provided with a sun hat and splash suit.
Our staff walk the children to Sutton Park using secure clip-on safety walk-o-diles. We take a toilet tent and provide warm water hand washing facilities, ensuring the children have privacy. Children go to Forest School in varied weather conditions (the splash suits help us!), with the exception of stormy weather.
Between our nursery garden area and our Sutton Park forest school sessions, we ensure your children are given every opportunity to explore the outdoors whilst at our nursery. We pride ourselves on encouraging children to have new experiences, and our Forest School sessions help us to do this in a safe yet exciting way!
If you would like to find out more about Smart Start Day Nursery, and our preschool forest school sessions, please contact our team and read through our prospectus.
Let the adventures begin!
Find out more about Forest School sessions